The Burning Questions!!!
Fire Soul!!!
Mars Fire Ignite!!!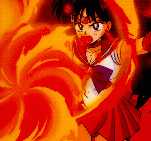 Why are things like they are? Why...?
---
Despite how much I like Sailor Moon, some things just raise some burning questions. Such as....
Why do the Senshi's transformation sequences take so long? If the monster-of-the-day happens to be watching, what keeps it from just blowing them away?
Why doesn't Sailor Moon chop off her left pigtail when she throws her tiara? (If you don't get it, watch the show.)
Why aren't Reeny, Ann and Alan, Rubiess, The Wiseman, The Four Sisters, yadda yadda yadda, in the opening?
Why hasn't Sailor Moon ever used that sonic-cry attack since the first episode?
Who the HECK wrote the Moonlight Knight's speeches?! They're almost corny enough to make me barf!
Just what kind of names are Tuxedo Mask and Moonlight Knight?
Why is the song "Only A Memory Away" on the first soundtrack CD different from the one in the show? It is, and that's not right!
On the subject of music, why didn't they put a song when Neflite died? Or when Ann and Alan got their happy ending?
Why do the Sailor Moon Adventure Dolls look SO ugly?
What's with the ugly little red plastic balls on the Sailor Moon Adventure Doll? They don't look like meatballs! Who do they think they are fooling?
Why is the crystal in the toy Crescent Moon Wand PINK?! IT'S SUPPOSED TO BE THE SILVER CRYSTAL!!! Perhaps the guys at Bandai are color blind...
What is the point of the Sailor Cycle toy? It is not, nor will it ever be in the show. And if Sailor Moon DID try to drive it....
How many times would Sailor Moon crash the Sailor Cycle if it was in the show?
Why does Sailor Mars fit on the Sailor Cycle better than Sailor Moon does?
Why does Catsy's voice change from the first time you see her to the last?
Why does Molly sound like she's from Brooklyn or somewhere similar? Uh, she lives in TOKYO....
In the dub, why do they almost never mention that they're in Tokyo? You can figure it out yourself, what with Tokyo Tower and all the Japanese writing, but still....
Why did they change Sailor Jupiter's name to Lita? Her Japanese name was Makoto...They could have changed it to Monica, Maggie, or something similar.
What would have happened if Neflite hadn't been killed when he fell in love with Molly? (To some Nega-Monster: "I am Neflite, and I will punish you!!!" Uh, maybe not....)
Why the HECK is Reeny's hair pink? Her mom has blond hair, her dad has black....Something just doesn't add up here....
Why didn't DiC just finish all of Sailor Moon R in one pop? It would have saved us SOSers a whole lot of trouble....And we wouldn't be eating all those blasted Strawberry Pop-Tarts. Bleah....
Why does Mercury shoot bubbles? I mean, you can't destroy anything with a bunch of bubbles....
Where can you find ANYONE with blue, olive-black, or aqua colored hair?
And what kind of shampoo do they use to get it those colors?
Why is Sailor Moon such a klutz? Is it genetic, or the result of some bad experience from her childhood?
Just why does Darien love her so much? I'M a MILLON times more loveable than she is....
Why is Jupiter so strong? Does she take her vitamins?
If so, what kind of vitamins does Jupiter take?
And where can we get some?
Why does Sailor Moon have that meatball hair?
Why doesn't anyone realize that Serena is Sailor Moon? For gosh sakes, all she does it put on a tiara! Does NO ONE realize that she's probably the only person in all of Tokyo with hair like that?
Why didn't Darrien and Serena realize that Reeny is their daughter? There were enough hints....
Just why are they in sailor suits?
How can Sailor Moon and them all do flips, jumps, ect, without anyone getting so much as a glimpse of their underwear?
Why are the CDs and all that sooo hard to find in stores? You'd think they knew the potential cash they could make off of us!
Why are the North American air times sooo bad? I get them at 12 noon, the US gets them at, like, 8 in the morning....
Why do people always make fun of us moonies?
Why does everyone seem to want earth's energy?
What does OSAP mean?
Why did Neflite bleed green when he died?
Why didn't Queen Serenity toast the "invincible shadow" when it first appeared over the moon, instead of letting it destroy crystal Tokyo and ice Serina and Darian?
How come no one has noticed all of these ruins on the moon?
If queen Serenity sent ALL the children of the moon to a new future on earth, why arn't there thousands of "Sailor Senshi" type people running around trying to kill the negaverse?
If (In the DiC dub, at least.) they are "Sailor Scouts", then how come they are never seen tying knots, pitching tents, or saying "Be prepared"?
And just who are they scouting for?
Why doesn't Ann really care that much that Alan is trying to get Serena...but flips out when he eats with Lita?
Why would creatures from another planet who's entire society was corrupted by the negaforce, have names like Ann and Alan?
Why didn't Lita ever hook up with her friend Ken in 'A Knight to Remember'? He's way cooler than those other losers she's always falling for!
Why do they get those strange drops of sweat dripping down their hair when they're nervous, sad, etc? (Well, I guess this is a general Anime burning question...)
Why do their skirts shorten so much when they transform?
Why do they all have tiaras, but only Sailor Moon can throw hers?
Why does Serena always come late for school, doesn't she know how to turn on the alarm clock?
Why doesn't Luna wake her up?
Why doesn't Venus have those nifty glasses on all the time?
How the heck can a ROSE fly so quickly?
Why are ALL the demons and most of the bad guys girls?
What's up with the age difference between Serena and Darien?
Where are Mina and Ami's Parents? Are they Pod People?
Why, instead of trying to shut Moon and Mars up during an argument, doesn't Mercury just freeze them?
Why don't Lita, Serena, and Mina have English last names?
Why are there no black people in Sailor Moon?
If Princess Serenity was so sweet and refined in the Moon Kingdom, then why in the world was she reborn as such a ditz?
If Reeny is only like 8-10 years old......then why are her breasts the same size as her mom's when she is Sailor Chibi-Moon?
What I want to know is how did Queen Serenity send the souls of the moon people to the future, make the rainbow crystals, and put Artemis and Luna in time capsules, all before she died?
On the subject of time capsules........How exactly did they know when to awaken Luna and Artemis? Did they have a timer on them that told the capsules to explode when the Sailor Senshi were awakened?
And what about Queen Serenity's soul? Where the heck is it? Is she Serena's mommy?
AND how come the bad guys can't summon multiple monsters of the week? If they had 50 even Sailor Moon couldn't beat them!!!
How come all of Sailor Moon's power up stuff is soooooo Gaudy?
Why is it that ALL the senshi convieniently showed up in Tokyo AND that is the only place where the Monsters choose to attack?
Why is it that the coolest name for an attack (Starlight Honeymoon Therapy Kiss) has the most BORING attack sequence?
Why isn't there a support group for all the poor monsters that were defeated by the Sailor Scouts?
Why does DIC always show parts of the episodes that they cut in the Sailor Moon Says segment?
In the Sailor Moon Says for a particular episode that will remain unmentioned they caution us against runing with pointy objects. Is is just me or is Sailor Uranus' Space Sword pointy AND she runs with it too?
Does DIC honestly have to share with us that Queen Beryl did a BAD thing when she destroyed the Moon Kingdom?
Do you find it slightly disturbing that one of Sailor Moon's hairs just HAPPENS to get on Sailor Venus and this just HAPPENS to be the one that they analyze and decide she MUST be the Moon Princess?
Why do the Sailor Scouts have three-foot-long hair and NEVER have a bad hair day?
Why does the dub turn Sailor Venus into a Valley Girl? AND what exactly does DIC have against her anyway?
How come EVERY new establishment in Tokyo HAPPENS to be a scam by the Negaverse?
Why exactly does Reeny try to kill her mom? Hello..If she kills her mom she won't be born!
Who does Reeny's hair? How exactly do they get it up in maple bars like that? Can I get the phone number of the stylist?
Do you think if Moonies gathered up enough money that we could get the rights to Sailor Moon away from DIC?
Why the heck did I even start this list in the first place?! (Middle-of-the-night-update frustration has kicked in... :P)
Why do Luna and Artemis get hurt in the same spot, just on opposite legs? (Day of Destiny)
Why does Luna still refer to Central Control even AFTER she knows it is Artemis?
What would happen if the Senshi fought on a cobblestone roadway? Wouldn't they have a bit of a problem with those wonderful selection of foot wear? Hmm....
How exactly did the moon wand get to Serena? I don't remember Queen Serenity sending THAT into the future!
Just where did Luna take gymnastics? Personally, I would LOVE to teach my cat to do pretty sommersaults in the air!
Why does Setsuna always wear that scary purple outfit? It's not like she can still be going to school and that's her uniform. Unless she flunked....A LOT!
Why is it that the Senshi fall for the SAME thing over and over again in the Day of Destiny? When they find out Darien was a fake, then that Andrew was a fake, don't you think they would realize that Greg was a fake? If Mercury is the smart one, why did she need to analyze him to find out?
Which bathrooms DO the Starlights use?
Why is Saturn the only scout they realize who is BEFORE she transforms?
Why does Raye say she goes to school with the BOY photographer when she goes to the T*A GIRLS school?
Why doesn't Saturn destroy the world the second time she is awakened?
Are report cards really THAT deadly?
Where does Melvin get his glasses?
Why can't they figure out Sailor Moon is the Moon Princess? Hmmm..let's see. MOON Princess...Sailor MOON...nope, no connection.
Why do all the Shadow Warriors just HAPPEN to show up in the near vacinity of the Sailor Scouts at the same time the Negaverse finds them?
How can anyone think Molly might be Sailor Moon? Hmm...no meatballs, scary accent, a tad more graceful. Yah, they are practically twins!
Why do the moon wand and rainbow crystals take on a life of their own?
How do the scouts know their attacks immediately? Is that just reborn into them? If so, why can't they remember anything else?
Isn't it a little convenient that when the bad guys get harder to beat the scouts get more powers?
How does Mars fight in high heels?
How do Luna and Artemis always know about the Negaverse monsters? Are they psychic? Hmmm ...
Have the Three Lights come back as Hanson?
Why does Fish Eye's music (on the Music Box Collection CDs) sound like the revenge of Kenny G?
What is with the Starlight's outfits? Have they entered a Xena look-alike contest? They would definately win!
What does Pluto do all day when she's guarding the gates of time?
How many people actually go to the trouble to find the gates of time?
Why is Venus the only scout that has different colored ribbons on the front and back of her Sailor uniform?
What does Helios see in Chibi-Moon?
And how can Chibi-Moon be attracted to a "horse"?
Don't Serena's parents find it disturbing that EVERY time Sailor Moon shows up Serena is missing?
Doesn't Molly find it slightly disturbing that she seems to be the target for a LOT of monster attacks? You think she'd catch on sooner or later!
Why does one of the Sailor Uranus dolls come with a moon wand, but the Sailor Pluto one gets her Time Key?
Why isn't Sailor Jupiter one of the Outer Senshi?
How come they don't realize that Jed is Jedite? His names are a bit of a tip off. He's not exactly very creative.
What is with the Sailor Moon Says for the Day of Destiny? Apparently, she stood up there like a pro, fighting until the finish, never giving up! Personally, it looked to me like she was running around and crying a lot while her friends did all the dirty work. Eventually it was left up to her, but even then they had to help!
Why does a big scary bubble come to get Serena in the Day of Destiny?
Why does Queen Beryl keep killing off her generals? Doesn't she realize once they are gone she's kinda out of business?
How come Sailor Moon gets to be the leader? Is it just me or are moons a tad less significant than planets?
Why does Luna make such a creepy human? AND why does Artemis get suspenders?
Why can't the dub decide if the water sprite is good or bad?
What if there ARE planets out there that haven't been discovered yet? Does that mean there is a slight possibility that we are Sailor Scouts too? (I'm crossing my fingers)
How can they fall for the fake Sailor Moon/Zoicite when the real one is standing right next to them and they KNOW she is really Sailor Moon?
How come they say they can't recognize each other in their human forms? Come on, they look almost EXACTLY the same!!! (but different...)
How come Usagi can eat like a pig and never gain a pound? I hate that!
Where do Sailor Moon's power tools come from? I mean, its not like she can hide it in her back pocket or something...
Why doesn't Malachite button the top button on his tunic?
Why did they play Alan's flute song in the episode about the hypnotized animals?
Why in the first episode when Luna first sees Serena, she knows that she is Sailor Moon? For all the other Scouts she has to look at the top of their forhead to see if they are really Scouts...
Who the heck is Sailor Moon's father? (As in Queen Serenety's husband.)
Why do the generals always wear those weird suits? I mean, they look like their tailor is also an upholsterer.
How come the kitties dont have any cool attacks?
Why does the SM petite doll of Uranus have such scary big eyes? Uranus has small, nice eyes...
Where can i get my hair done like the Amazoness Quartet?
What would happen if Sailor Moon is about to fight this nega-nerd and she breaks a heel on her boots?
Does Luna get hairballs?
Where can i get some boots like Sailor Moon? And do they come in a size 8?
Why doesnt tuxedo mask get a little teeny skirt when he transforms? *Giggle*
That's it, that's all. I used to give out an award for good submissions, but I've given up and have no urge to keep this up any longer. You can look at it, you can enjoy it, but you cannot add to it! Go away! Scoot! No more e-mails! *deeeeeep breath* Quite sorry.... carry on.
Winners of the award!!!
Émilie *Sailor P.* L-C.
Nigel (AKA Sailor Nitro)
Eternal Sailor Chibi Serena
Emmy (Emily)
Sailor Tornado (Alisha Watson)
Hino Mina
Mark Kuggeleijn
Georgina
Matti Strahlendorff
Nyanko
Reiko chan
A REALLY big thanks to Lissa-chan and Firefly for a heckuvabuncha additions to the list!!
---

Head back to the main page!
---
Sailor Moon, and all things related, are the property of Naoko Takuchi and Kodansha, not me. Do not sue me, I mean no harm , I have no money, and I would cry a whole lot. And if you can read this, you have good eyes....